Nos vignes sont toutes conduites en culture raisonnée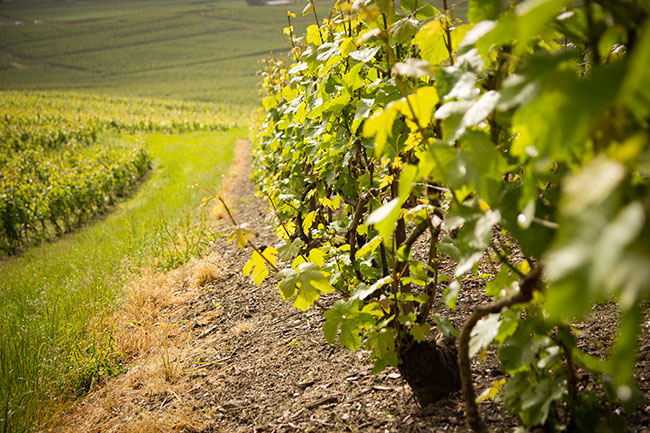 The making of a champagne always starts with the "vendange", the harvesting of the grapes, that must be performed manually. The crop is subsequently placed in a wine press and the wort, the juice from the pressing, flows into tanks where it is fermented.
Integrated viticulture is an approach which applies to wine growing production that takes into account the protection of health and the environment. In France, the concept is regulated by the state (ministries of Agriculture and Ecology) and its promotion is undertaken by FARRE (Forum of Responsible Farmers who Respect the Environment). Our vineyard has been certified as complying to the principles of integrated viticulture by the French authorities.
After this, the cuvée is assembled by blending champagnes from different years together. However, for a "Millésime", an exceptional vintage, we use only wine from a single vendange.
Sediment deposited in the neck of the bottle by "remuage"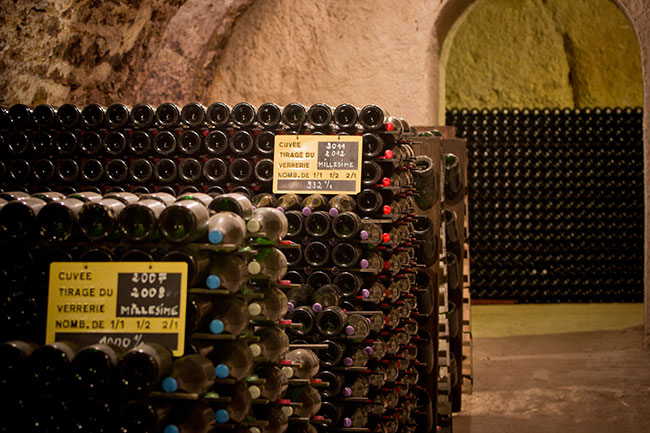 Traditional ageing on battens
The following step is the bottling where a sweetened solution, the "liqueur de tirage", along with selected yeast cultures is added. This addition enables the secondary fermentation that gives a champagne its effervescence.
After a period of around eight weeks there is the "prise de mousse", and the still wine is transformed into sparkling wine. Next comes the period where the wine matures, its taste evolves and gains the complexity typical of champagne.
The remuage (riddling) of the bottles cause the sediment to collect in the neck of the bottle. The disgorgement allows the removal of the sediment deposit from the bottle, and the "liqueur de dosage", or dosage liqueur, is added if needed. Finally, the last step is the definitive closure of the bottle with a cork and a metal capsule held in place with a "muselet" (wire cage).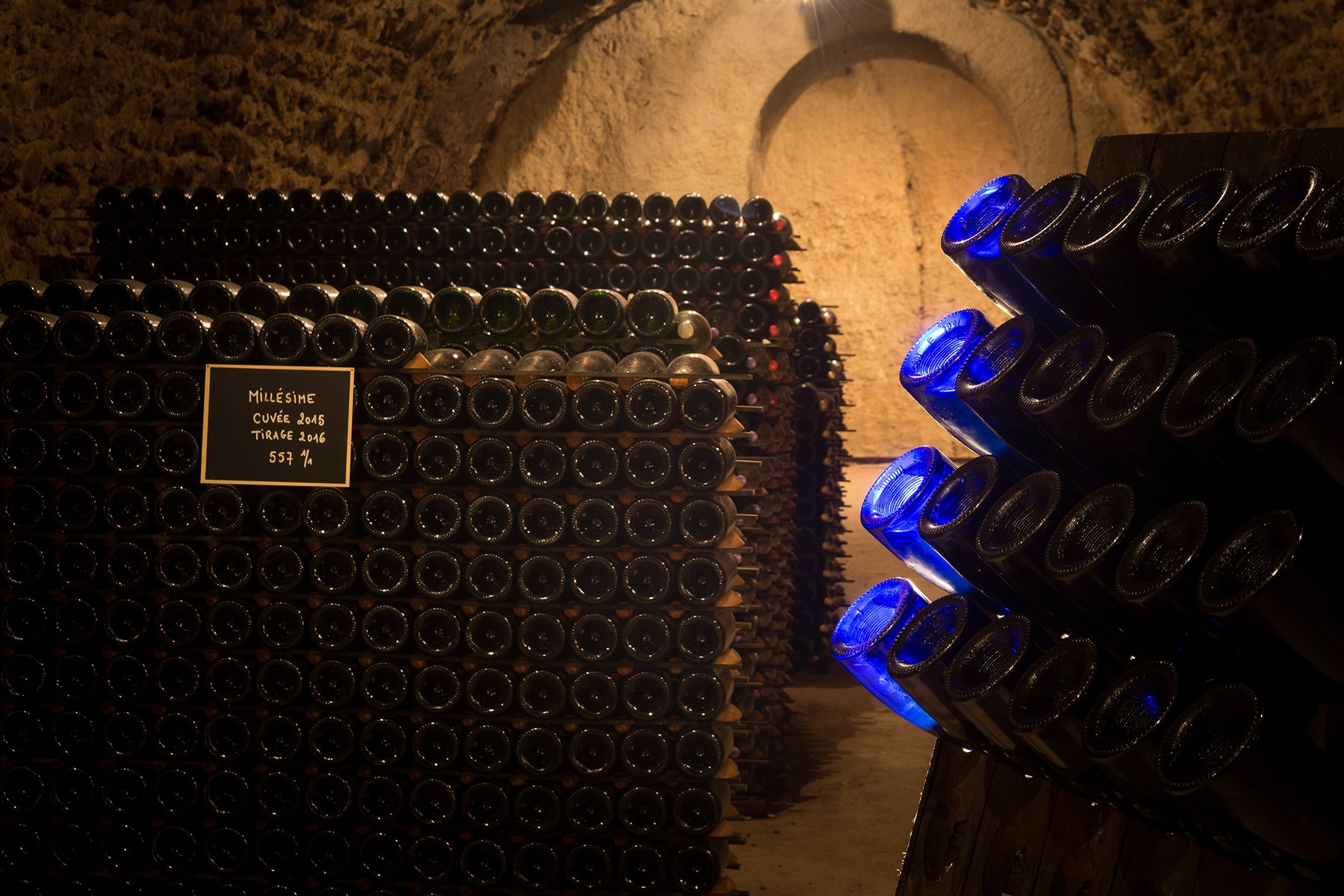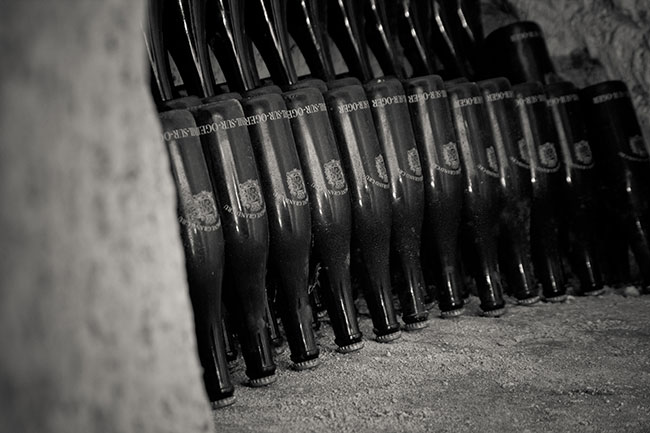 Ageing on the tip of the bottle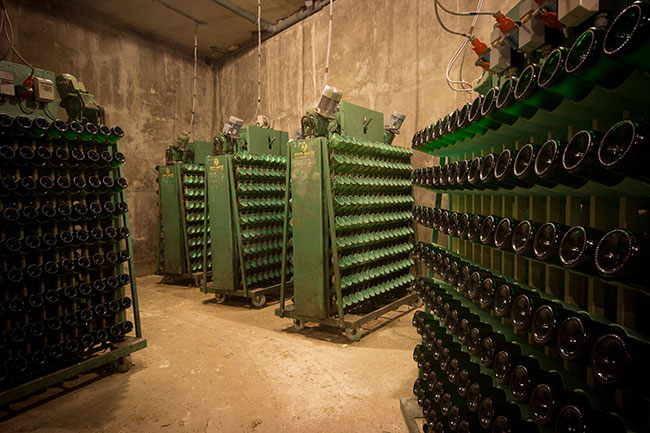 Machine-controlled riddling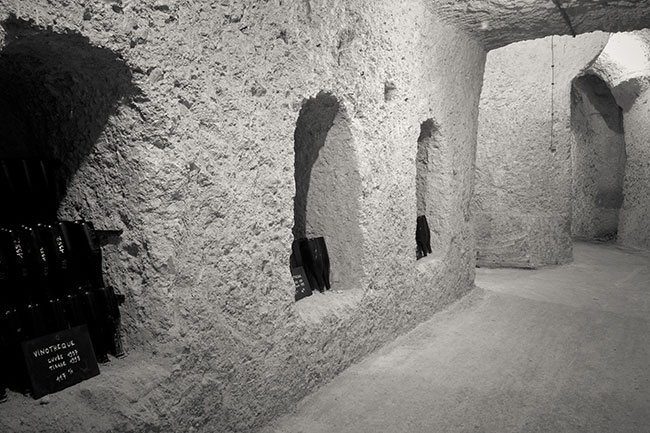 Our aging underground champagne caves
In 2008, the field was equipped with a pneumatic press of 4000 kg and in 2014 a new stainless steel tank thermally regulated to make fermentations at low temperature. This approach of vinification enable a better aromatic development of our champagnes.